The best way to experience the beauty of Capri is by sea
Since 1955, Motoscafisti di Capri have been sailing visitors from around the globe around the beautiful island of Capri, Italy.
In business for over half a century, we are the company of choice for boat trips to the Blue Grotto, the Faraglioni, and around the island of Capri. We also provide an exclusive ferrying service to and from ships anchored around Capri. You're safe with us: all our boats are equipped with the latest safety equipment and covered by complete passenger insurance.
WE ARE LOCATED ON PIER n. 0 AT THE PORT OF CAPRI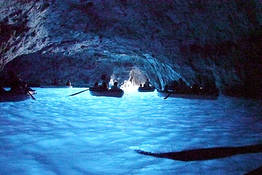 Buy the online ticket, save 1 euro and skip the line!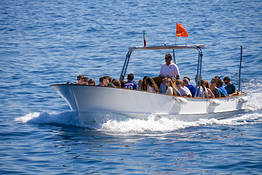 Buy the online ticket, save 1 euro and skip the line!
Buy tickets online: skip the queue and save money!
Buy your ticket online.You can pay by credit/debit card.
Print your ticket out at home.
Come to Pier 0 at the port of Capri with your printed ticket. (Don't forget it at home...it's your valid ticket!)
Skip the queue at the ticket line and proceed directly past the ticket office to board.
Show your ticket to your skipper, hop on board, and enjoy the tour!
Transfer to Blue Grotto - Blue Line
From our private Pier 0, boats sail to the Blue Grotto* regularly throughout the day.
You can combine your visit to the Blue Grotto with a trip around the island.
*L'entrata nella Grotta Azzurra viene effettuata su barche a remi da un'altra compagnia. Il biglietto d'ingresso di 14 Euro si paga a parte.
| | | |
| --- | --- | --- |
| Operating hours: | Prices: | Duration: |
| • Non-stop departures from 9 AM to 5 PM | 15 euro | 1 hour |
Island Tour + stop by Blue Grotto - Yellow Line
A trip around the Island of Capri, Italy with a stop at the Blue Grotto* is the ideal way to explore all the island's sea caves.
*The visit to the Blue Grotto is optional and it is aboard small rowboats managed by another company. Tickets must be purchased separately for Euro 13
All our skippers speak English; some speak French and Spanish, as well. From our private Pier 0, boats depart regularly throughout the day.
| | | |
| --- | --- | --- |
| Operating hours: | Prices: | Duration: |
| • Departures: Every 30 minutes from 9 AM to 2 PM | 18 euro | 2 hours |
Faraglioni and Marina Piccola
Discounts for travel agencies, groups, and schools
We organize private excursions around the island of Capri and to the Amalfi Coast. All boats are manned by an expert crew, allowing you to enjoy a day at sea, without the worry of having to sail yourself!
Private excursions use boats fitted with a generously sized sun deck. Our 10 meter long "lance" boats are the largest on the island.
• Boats can transport from 2 to 35 passengers
• Spacious sun deck
• Sun awning
• Ice box with mineral water and soft drinks
• Soft water shower
• Multilingual skipper
• Onboard picnic or lunch at a sea edge restaurant, upon request.
Private excursions
Private transfers and Charters
Our transfer and charter private services are available 24 hours a day, 7 days a week: from Capri to all the destinations on the Bay of Naples and Gulf of Salerno, and vice-versa.
Our boats have a capacity for up to 150 passengers. Upon request, we can arrange exclusive and personalized on board services, such as parties and receptions.
Transfers and Charters
At the port of Capri, you'll see the private Pier 0 owned by the Motoscafisti di Capri.
Non-stop departures for the Blue Grotto and Trips around the Island. Tickets can be purchased just before boarding. The ticket office is located on the pier and staff will be pleased to give you all the information you'll need to ensure your day on the sea surrounding Capri is one to remember. There is free wifi for our passengers available on the pier.